PRICE: € 350,00
PAYMENT METHOD
BANK TRANSFER
CREDIT CARD by PAYPAL

CONTACT US FOR SHIPPING CHARGES


CREDIT CARD

If you received our quotation and the confirmation of availability
click on the button


variable capacity tank 200 lt.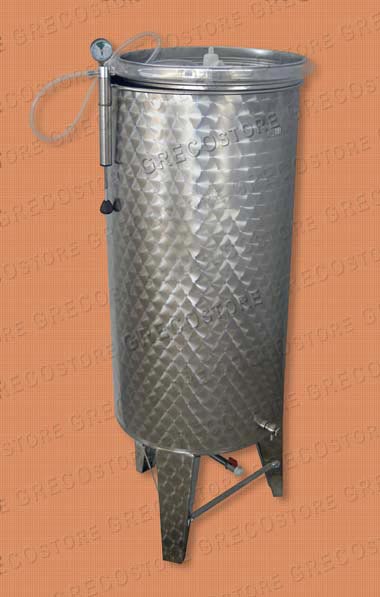 item code: SP1T
features
VARIABLE CAPACITY TANK 200 litre
- This stainless steel variable capacity tank - conical bottom - is provided with floating lid (inflatable gasket and air pump).
This kind of tank allows to have the lid always on the wine level, so, it obstructs the way of air.
These tanks are used for preserving the wine and storage also.
provided with:
- floating lid with air valve, inflatable gasket, air pump;
- 1 spigot in stainless steel and a waste valve (made in chromium plated brass);
- N° 3 welded legs.
- dimensions (cm.): Ø 51* x 137 h
- weight : 15,500 KG
* internal diameter

-
stainless steel tanks
(all models)