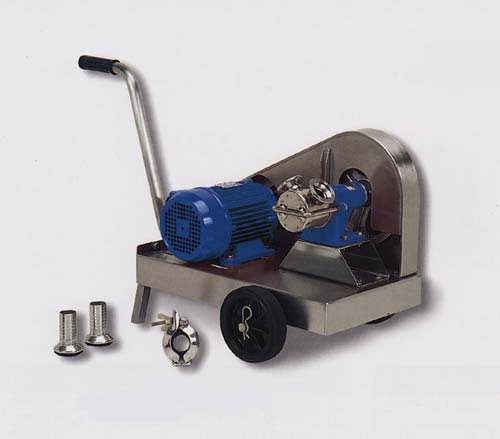 BELT DRIVEN PUMP ON TROLLEY
mod. GR MINOR 40
self-priming, flexible impeller, belt driven pump, slow running speed, "standard" control panel
made in stainless steel
manufacture LIVERANI

mod. GR MAJOR 60

mod. GR MAXI 80
general features
This volumetric rotary pump, a self-priming type(up to 6 metres maximum), has a flexible impeller.
It is reversible with a slow running speed (also available as monobloc - coaxial) reduced by pulley arrangement at 1 or 2 speed. The pump is available with a mechanical speed variator or integrated frequency converter (inverter). The trolley/base, fittings and the pump are made completely in stainless steel AISI 304 ( AISI 316 on request). The standard pump impeller is in natural non toxic rubber or alternatively on request in neoprene, nitrile, EPDM or silicon. The standard mechanical seal is stainless steel-graphite-NBR or on request in vidia-vidia-NBR or vidia-vidia-viton.
FOOD INDUSTRY:
transferring of delicate liquids and also those with solid in suspension with different viscosity and without emulsifier (wine, must, must and stemmed must, beer, fruit pulp and juices, jams, liquid sugars, glucose, milk, butter, yoghurt, eggs, oil and tomatoes in pulp and juices).
PHARMACEUTICAL AND CHEMICAL INDUSTRY:
transferring of starch, glues (with a water base), emulsions, glycerine, wax, detergents, soap liquids, shampoos, creams, syrups, saps, vegetables and animals fat, industrial waste water, etc.
technical data

- weight 38 kg
- speed: 1 (2 speed available with three-phase motor)
- motor: single-phase HP 2
- Rpm: 470
PERFORMANCES
Head (meters) DELIVERY (Litres/hour)

m.
0

m.
4

m.
8

m.
12

m.
16

2400

2150

1800

1400

700
-
Are available other models (three-phase) with different type of r.p.m., CE control panel and double speed.