egg incubator covatutto 54 DIGITAL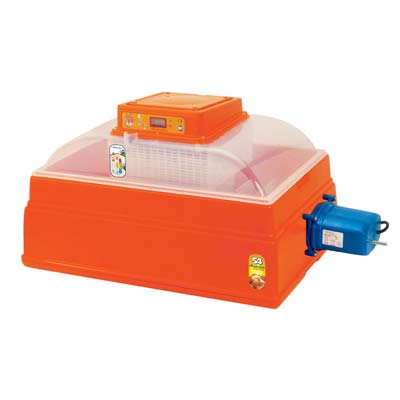 technical features
EGG INCUBATOR mod.
COVATUTTO 54 DIGITAL
automatic
manufacture NOVITAL
code INC6A
This incubator is used to create the ideal conditions allowing the fertilised eggs to continue their embryonic development already started before they were laid, up to the little chicken birth.
You can incubate eggs of quail, hen, grey partridge, hen-pheasant, guinea fowl, duck, turkey-hen, goose.
The egg incubator COVATUTTO 54 DIGITAL belongs to new NOVITAL egg incubators range.
These incubators are provided with digital thermometer and a switch for an easily changing of the temperature.
The cabinet is made in very strong plastic and it has good thermal insulation (double wall with polystyrene).
The eggs rotation/movement take place by means an
egg turning device
.
The heating is provided by an heater element while the fan situated upon the eggs allows a better uniformity of heating, humidity and a better air changing.
The humidity is assured by water contained into a "space" in the shape of the base.
- dimensions (cm.):58x41x37,5 h
- weight: kg. 5,200
- package weight: kg. 7,400
HOW TO ORDER
-
If you want to buy this item, you have to contact us by our
information form
or via
e-mail
.
We will provide you the order information: quotation, shipping charges, payment methods.
Then if you decide to buy this item, you have to confirm your
order
- filling the
ORDER FORM
- and then you may arrange the payment by a bank transfer or by
credit card
through
PayPal
CREDIT CARD

If you want to pay by a credit card - through PayPal - and you received our email and the confirmation of item(s) availability
you have to click on the PayPal button


you will open a payment page with "your order summary": there you have to type the amount of your order to the right of
"Item price"
and "click" on
"Update"
for proceeding with your transaction.
Contact us for shipping charges
€ 357,00 > € 285,00
SPECIAL OFFER!
PAYMENT METHODS
BANK TRANSFER
CREDIT CARD (PayPal)

related items





EGG INCUBATOR
mod. COVATUTTO 108 DIGITAL automatic
SPECIAL OFFER!

€ 517,00
€ 414,00

egg incubator COVATUTTO 7
manual
SPECIAL OFFER!

€ 65,50
€ 53,00



egg incubator COVATUTTO 24 DIGITAL
semi-automatic
SPECIAL OFFER!

€ 175,00
€ 155,00





egg incubator
COVATUTTO 54
semiautomatiC
SPECIAL OFFER!

€ 261,00
€ 209,00