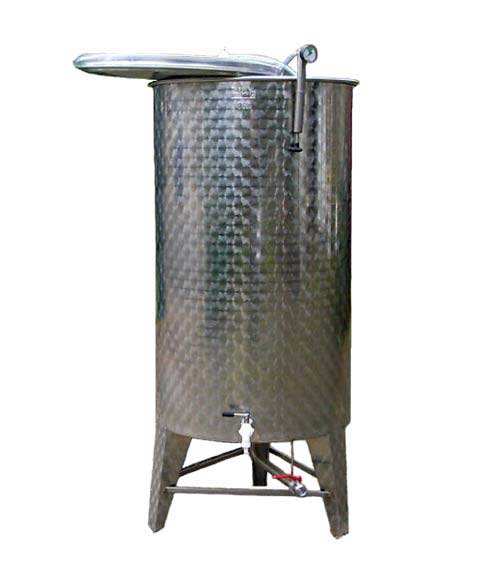 STAINLESS STEEL VARIABLE CAPACITY TANK 500 litres
- This is a stainless steel variable capacity tank - conical bottom - provided with floating lid (inflatable gasket and air pump).
This kind of tank allows to have the lid always on the wine level, so, it obstructs the way of air.
These tanks are used for preserving the wine and storage also.
provided with:
- floating lid with air valve, inflatable gasket, air pump;
- 1 stainless steel valve (+spigot) and a waste valve (made in chromium plated brass);
- N° 3 welded legs.
- dimensions (cm.): Ø 72* x 161 h
- weight : 30,000 KG
* internal diameter
- 11 plates in Moplen (cm. 20x20)
- stainless steel pump - HP 0.5 (single-phase 110V/60Hz)
- hourly production : 150-350 litres*
- overall dimensions: 43,5x42,5x34h
- weigth: 22,300 KG.
* manufacturer