vacuum sealer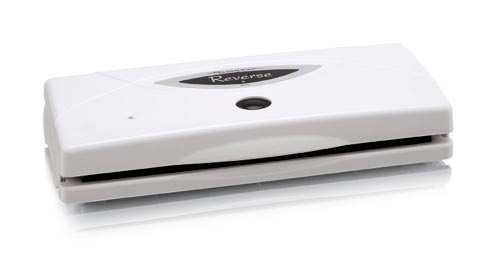 technical features
VACUUM SEALER mod. REVERSE
fully automatic
manufacture FLAEM NUOVA
code CFZ5
The MAGIC VAC vacuum packing system is an innovative product, designed to allow a commercial quality vacuum packaging for the home. The consumer can preserve the freshness, flavor and nutrients of food more than other conventional storage methods.
It is a process whereby air is removed from a storage bag or container for protecting food from the noxious effects of contact with oxygen, therefore keeping your food fresher longer, while storing it naturally.
features
- adjustable vacuum level up to max 60 cm/Hg(-0.8 bar) approximately
- tray washable in dishwasher
- dimensions (cm.) :38x15x9
- weight : KG. 1,500
- package dimensions(cm.):43x19,5x11,5h
- package weight :kg. 1,950
supplied with:
- 5 ready cut bags (cm. 20x30)
- connecting tube for accessories
- 1 operating manual
- bag-cutter "Magic cutter"

vacuum sealers
(general page)
HOW TO ORDER
-
If you want to buy this item este artículo, you have to contact us by our
information form
or via
e-mail
.
We will provide you the order information: quotation, shipping charges, payment methods.
Then if you decide to buy this item, you have to confirm your
order
- filling the
ORDER FORM
- and then you may arrange the payment by a bank transfer or by
credit card
through
PayPal
CREDIT CARD

If you want to pay by a credit card - through PayPal - and you received our email and the confirmation of item(s) availability
you have to click on the PayPal button


you will open a payment page with "your order summary": there you have to type the amount of your order to the right of
"Item price"
and "click" on
"Update"
for proceeding with your transaction.
SHIPPING CHARGES

(EUROPE) Austria:24(D), Belgium:24(D), Bulgaria:38(D), Czech Republic:34(BD), Denmark:30(BD), Estonia:38(D), Finland:33(D), France:24(D), Germany:23(BD), Greece:33(D), Hungary:38(D), Ireland:33(D), Latvia:38(D), Lithuania:38(D), Luxembourg:24(D), Netherlands:24(D), Poland:38(D), Portugal:33(D), Romania:35(BD), Slovakia:33(BD), Slovenia:38(D), Spain:28(U), Sweden:33(D), United Kingdom:28(U).

for other countries, contact us

€ 82,00
PAYMENT METHODS
BANK TRANSFER
CREDIT CARD (PayPal)