shopping on line of items for agriculture, gardening and home
tomato squeezer 2400 Professional
GRECO STORE s.a.s.
viale Vincenzo Ricci 303 - 89029 TAURIANOVA (RC)
P.I.: IT02644000800
tel. 0039-0966-643927 - fax 0039-0966-1940162
email: info@salvatoregreco.com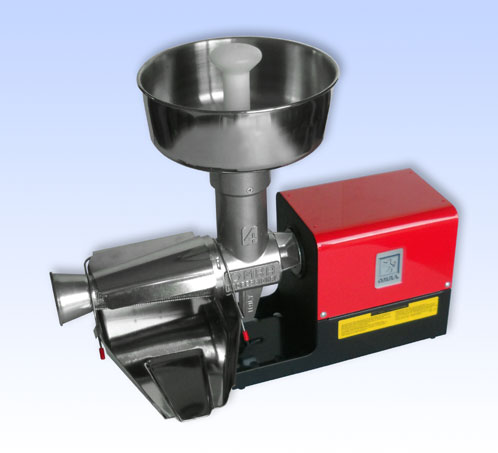 TOMATO SQUEEZER mod. 2400 Professional
- single-phase motor 220-230V/50Hz (250 W max.) provided with automatic thermic protection;
- geared reduction box made in die-cast aluminium; junction to the squeezer body made in high resistance nylon; self-lubricating nylon gears;
- squeezer body made in die-cast aluminium Anticorodal; cast iron screw;
- spring, filter, chute and funnel are made in stainless steel.
- dimensions(cm.):53,5x28,5x44 h
- weight: 7,400 kg.
- hopper diameter : 22 cm.
- package weight : 8,100 kg.
- hourly production: 300 kg. (provided by manufacturer)
item code : SP5
PAYMENT METHOD
BANK TRANSFER
CREDIT CARD by PAYPAL

if you want to buy the item go to
www.grecostore.it
change the language and open
"tomato squeezers"
related items