hand-crank sausage filler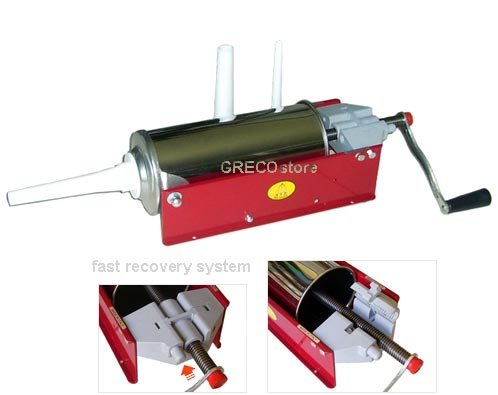 technical features
SAUSAGE FILLER mod. 5/XS
manufacture FACEM - TRE SPADE
code EMB1
- This hand-crank sausage filler has a innovative fast recovery system of screw : after the screw has finished its run, we have to push the bottom and lift the grey lid and so, we can bring back the screw for a next filling operation.
- Stainless steel AISI 304 cylinder;
- Piston made in moplen equipped with silicone packing and vent valve;
- regular equipment: 3 funnels in moplen Ø: 10,20,30 mm.
- capacity: 5 litres
- overall dimensions (cm.) : 82*x20x17 h
* including funnel and crank
- weight : 6,400 kg

sausage fillers - all range
HOW TO ORDER
-
If you want to buy this item, you have to contact us by our
information form
or via
e-mail
.
We will provide you the order information: quotation, shipping charges, payment methods.
Then if you decide to buy this item, you have to confirm your
order
- filling the
ORDER FORM
- and then you may arrange the payment by a bank transfer or by
credit card
through
PayPal
CREDIT CARD

If you want to pay by a credit card - through PayPal - and you received our email and the confirmation of item(s) availability
you have to click on the PayPal button


you will open a payment page with "your order summary": there you have to type the amount of your order to the right of
"Item price"
and "click" on
"Update"
for proceeding with your transaction.
Contact us for shipping charges
€ 134,00 >> € 99,00
PAYMENT METHODS
BANK TRANSFER
CREDIT CARD (PayPal)