ratchet basket press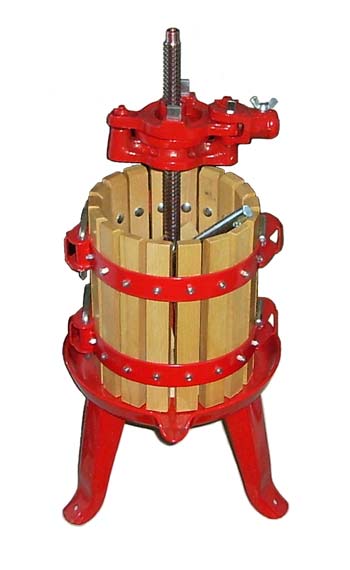 technical features
RATCHET BASKET PRESS
mod. 15
code TOR1
- Base plate in reinforced pressed steel with gusset plates in a dial form;
- High resistance steel threaded screw;
- Wooden cage in evaporated beech with through bolts and locking pins;
- provided with two semi-circular disc, four wood blocks and two wood collars;
- Painted with epoxy powders for foodstuffs.
- cage dimensions: Ø15(internal) x22h
- cage capacity : 3,85 lt.
- weight: 9,500 kg.
- height: 61.5 cm.

other models

> click to enlarge
HOW TO ORDER
-
If you want to buy this item, you have to contact us by our
information form
or via
e-mail
.
We will provide you the order information: quotation, shipping charges, payment methods.
Then if you decide to buy this item, you have to confirm your
order
- filling the
ORDER FORM
- and then you may arrange the payment by a bank transfer or by
credit card
through
PayPal
CREDIT CARD

If you want to pay by a credit card - through PayPal - and you received our email and the confirmation of item(s) availability
you have to click on the PayPal button


you will open a payment page with "your order summary": there you have to type the amount of your order to the right of
"Item price"
and "click" on
"Update"
for proceeding with your transaction.
SHIPPING CHARGES

(EUROPE) Austria:24, Belgium:29, Bulgaria:39, Czech Republic:31, Denmark:30, Estonia:37, Finland:43, France:27, Germany:25, Greece:47, Hungary:35, Ireland:41, Latvia:37, Lithuania:37, Luxembourg:29, Netherlands:29, Poland:35, Portugal:42, Romania:33, Slovakia:30, Slovenia:34, Spain:30, Sweden:35, United Kingdom:32.

for other countries, contact us

€ 114,00
PAYMENT METHODS
BANK TRANSFER
CREDIT CARD (PayPal)