copper pot with mixer
home
> copper pot with mixer - 7,3 lt.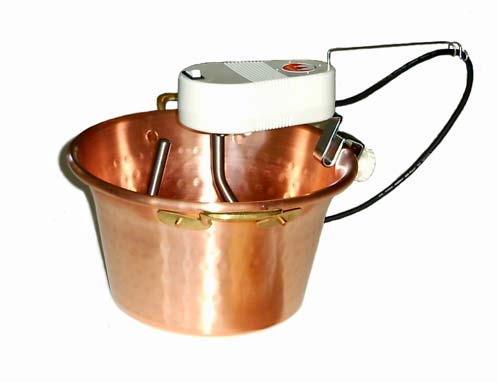 technical features
COPPER POT WITH MIXER - 7,3 LITRES
manufacture NOVITAL
code PAM1

- Copper pot provided with mixer and handles;
- It is a traditional kitchenware suitable por cooking corn meal, jams, and for all the recipes where we need a continuous mixing during the cooking.

- overall dimensions (max): 38*x25,5h
* handles included
- weight: 2,900 KG
- copper por dimensions: Ø 31x17h
- capacity: 7,3 litri

- package dimensions: 18x31x31,5h
- package weight : 3,400 KG
HOW TO ORDER
-
If you want to buy this item, you have to contact us by our
information form
or via
e-mail
.
We will provide you the order information: quotation, shipping charges, payment methods.
Then if you decide to buy this item, you have to confirm your
order
- filling the
ORDER FORM
- and then you may arrange the payment by a bank transfer or by
credit card
through
PayPal
CREDIT CARD

If you want to pay by a credit card - through PayPal - and you received our email and the confirmation of item(s) availability
you have to click on the PayPal button


you will open a payment page with "your order summary": there you have to type the amount of your order to the right of
"Item price"
and "click" on
"Update"
for proceeding with your transaction.
Contact us for shipping charges
SPECIAL OFFER
€ 82,00
PAYMENT METHODS
BANK TRANSFER
CREDIT CARD (PayPal)

related items