egg incubator/hatcher mod. MG 720 PEGASO
home
> egg incubator/hatcher mod. MG 720 PEGASO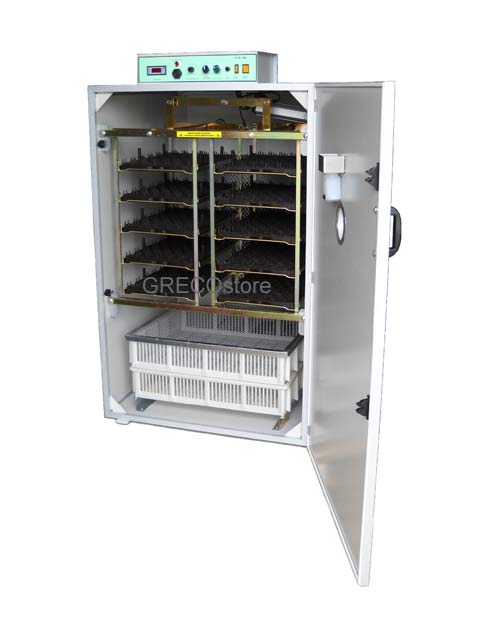 PRICE
€ 3.500,00

VAT inclusive
contact us for shipping charges
INCUBATOR-HATCHER mod. MG 720 PEGASO
Main features: this machine is an egg incubator/hatcher with 720 egg capacity for incubating and 288 egg capacity for hatching. The egg loading inside the machine is weekly.
Automatic egg turning. It is provided with digital thermostat for the control/regulation of the temperature and a wet-bulb hygrometer allows to measure the humidity percentage. The humidification is guaranteed through covered tanks with constant level automatic water flow. The ventilation is guaranteed by one self-cooling bearing professional fan and a special device to adjust ventilation intensity.
FEATURES (LOOK BELOW)
GRECOstore provide egg incubator for household requirements and semiprofessional/professional also.
Further NOVITAL egg incubators range (incubator for 7 / 162 egg capacity) GRECOstore provides egg incubators for 200 - 288 - 360 - 576 - 720 - 864 - 1728 - 3.456 - 4.600 - 6.912 - 7.000 - 12.000 - 18.000 - 24.000 - 36.000 - 60.000 egg capacity.
GRECOstore can design and provide incubating plant until several million of egg capacity.
INCUBATION / HATCHING: EGG CAPACITY
egg capacity

incubation

hatching

hen - duck - mallard

720

288

pheasant

980

392

red legs

1260

504

partridge - quail

1700

680

turkey

500

200

goose

280

112

FEATURES

power supply : 220-230V/50-60Hz

power consumption : 780 W

Dimensions (cm) : 88 x 88,5 x 142 h

weight (KG) : 90
Features: MG 720 PEGASO

This egg incubator combine in the same machine the incubating and hatching functions. It is a semiprofessional incubator but, it has performances of bigger industrial/professional incubators. For that reason, it can satisfy the needs of everyone wants to begin an activity in this field through an incubator/hatcher which cost is affordable.

EGG CAPACITY
The incubator - incubation and hatching both - has an incubation capacity of 720 hen eggs and 288 as hatching capacity.
INCUBATION: WEEKLY CYCLE. This machine has been designed to make egg weekly loaded and consequent weekly hatching cycle.
PRODUCTION CYCLE:(hen eggs): 1st week : 288 eggs; 2nd week : 288 eggs; 3rd week: 144 eggs.

STRUCTURE
The incubator has prepainted zinc-coated panels with 20 mm polystyrene insulation which allows good thermal insulation features and high toughness.
EGG ROTATION
The daily rotation is made by means a mechanical switch, which continuous and automatic operation, helps a right embryo development, avoiding very dangerous adhesions of the embryo to egg shells.

TEMPERATURE AND HUMIDITY
REGULATION/CONTROL OF THE TEMPERATURE. It is provided with a digital thermostat (decimal-precision) which allows an easy temperature regulation.
Besides, it is provided with an electromechanical thermostat, not connect to the primary control panel, which allows by means a emergency cable, to keep main functions of the egg incubator in case of malfunction of the primary control panel.
Temperature is read through °F precision thermometer and a web-bulb hygrometer provides the humidity values.

VENTILATION. The machine is equipped with one self-cooling bearing professional fan and a special device to adjust ventilation intensity. The suitable air exchange followed by carbon dioxide exhaustion is through proper ventilation holes.
HUMIDIFICATION. the humidification is guaranteed through covered tanks with constant level automatic water flow (automatic humidification is available upon request with digital adjustment and further reading through hygrostat).

One port-hole on the door allows a perfect view inside the incubator and the internal light allows an easy inspections of the eggs avoiding to open the door.
A visual and acoustic alarm warns temperature abnormalities and stops heating when the maximum temperature limit set up by the user is reached.

The incubator/hatcher MG 720 PEGASO - on demand - can be provided with egg trays for the incubation of Camelus ostrich, Emu, Nandu.