egg incubator new!!
egg incubator COVATUTTO 16 L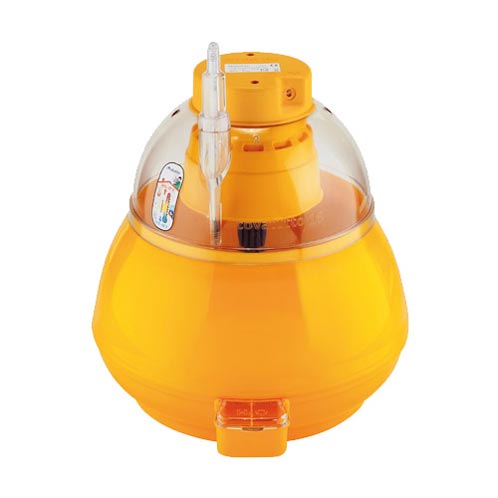 EGG INCUBATOR mod. COVATUTTO 16 L
cod. INC16
Manufacturer NOVITAL

- This new COVATUTTO 16 - called COVATUTTO 16 L - is designed with some important innovations: It is provided with three bulbs (25 W each.) which allows a better internal heating. Besides, the water can be put in a little external tray connected to the internal spaces, without open the incubator.
The eggs are turning by a sort of tie-rod put inside the incubator without touching the eggs with your hands.

This incubator is used to create the ideal conditions allowing the fertilised eggs to continue their embryonic development already started before they were laid, up to the little chicken birth. You can incubate eggs of quail, hen, grey partridge, hen-pheasant, guinea fowl, duck, turkey-hen, goose.
It is provided with thermostat.
This model is manual: It means that you have to move eggs twice a day (morning and night).

- dimensions : Ø 31x33h*
* 38 including thermometer
- weight:KG 1,500
- package dimensions (cm): 37x36,5x30h
- package weight : Kg 2,700
- capacity: 12-16 eggs (hen)



-
If you want to buy this item, you have to contact us by
FORM
or via
e-mail
: We provide you all details of your order.
If you want to buy the item, we need your "order confirmation"; then, you may arrange the payment through a bank transfer or
tarjeta credit card
by
PayPal
CREDIT CARD

If you received our confirmation of availability
click on the button


ORDER

€ 68,00

contact us for shipping charges
PAYMENT METHODS


- BANK TRANSFER
-
CREDIT CARD

NOTICE: You can arrange the payment if you already received our confirmation of availability.