shopping on line of items for agriculture, gardening and home
half-mask respirator ETNA - agricultural kit
GRECO STORE s.a.s.
viale Vincenzo Ricci 303 - 89029 TAURIANOVA (RC)
P.I.: IT02644000800
tel. 0039-0966-643927 - fax 0039-0966-1940162
email: info@salvatoregreco.com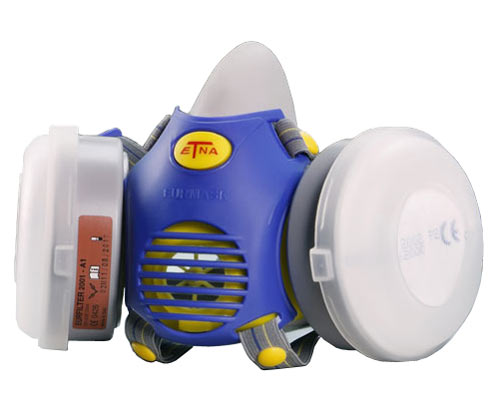 HALF-MASK mod. ETNA provided with agriculture filters*
*"KIT 2 AGRICOLTURA"
This kit is composed of an half-mask ETNA + 2 filters ABEK1P3 R. It is ideal for agricultural treatments with pesticides, with particles and toxic aerosols, which size are greater than or equal to 0.3 micron. It can filter 99% of solid or liquid particles. Application limit of 50 x TLV.

FEATURES
ETNA is an half-mask one size fits all, provided of 2 bayonet fittings for "2000" filters series; it is suitable for protection against dust, gases and organic/inorganic vapours, acid gases, etc.
- Its use is recommended in woodworking, stone and marble carving, paint spraying and / or a brush, grinding, hobbies, pesticide treatments, protection against welding fumes, etc.
- ETNA is a respirator that is a fine combination of TPE rubber and self-extinguishing overprinted polypropylene. Thanks to innovative production process, it is printed and welded in a way to form a single body with excellent air-tight against gases, fumes and mists. The characteristic structure increases strength, stability and resistance. It is extremely comfortable to wear being light weight and adaptable on any face shape; the oronasal shape has been designed using cad-cam technology.
- The four straps balance the pressure on the air-tight area around the face, eliminating the pressure points and providing an excellent stability during its use.
- Connecting filters is simple and safe with a new bayonet system. Their lateral positioning guarantees optimal visibility and a more homogeneous distribution of weights. The head harness with its enveloping shape and soft material perfectly adapts to any head shape.
- ETNA is provided with a central silicon exhalation valve and with a valve cover which also is the 4 point support head harness. ETNA can be used with the bayonet filters EURFILTER® 2000 series .
item code : SM01EM
PRICE: € 36,00
CONTACT US FOR SHIPPING CHARGES
PAYMENT METHOD
BANK TRANSFER
CREDIT CARD by PAYPAL
CREDIT CARD

If you received our quotation and the confirmation of availability
click on the button


related items