self-priming pump
self-priming electric pump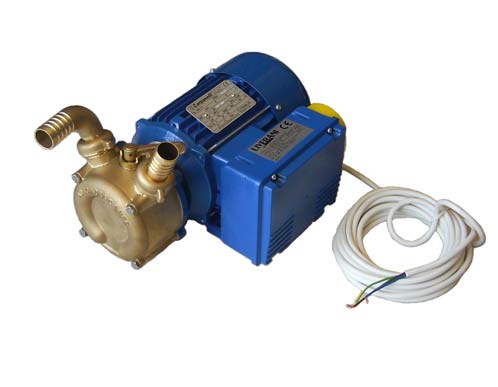 SELF-PRIMING ELECTRIC PUMP mod. EP 25 by pass
manufacture LIVERANI
- self-priming electric pump suitable for transferring of liquids, as water, gas oil, oils (not alimentary oils), sea water, etc. and any kind of liquid free frome solid impurities, until to the temperatures of 70° C (max).
- Provided with by-pass for regulation of entrance flow.
- It can operate on a two way direction of rotation (by means an on/off rotative reverse switch); priming up to 5-6 mt.
- motor equipped with an on/off rotative reverse switch + 6 mt. cable without plug;
- single-phase motor 230V/50 hz - HP 0.6;
- pump body and impeller made in bronze;
- shaft made in stainless steel;
- R.P.M. : 2800
- hoses : 3/4"
- max temperature of liquid : 70°C
- dimensions: 32x22x18,5h
- weight:
kg. 9,400
- package weight: kg. 10,200
capacity: litres/minute
| | | | | | |
| --- | --- | --- | --- | --- | --- |
| 0 m | 5 m | 10 m | 12 m | 15 m | 18 m |
| 60 | 50 | 25 | 15 | 8 | 0 |
CREDIT CARD

If you received our quotation and the confirmation of availability
click on the button


PAYMENT METHODS
BANK TRANSFER
CREDIT CARD (PayPal)