shopping on line of items for agriculture, gardening and home
egg incubator COVATUTTO 16 L digital automatic
GRECO STORE s.a.s.
viale Vincenzo Ricci 303 - 89029 TAURIANOVA (RC)
P.I.: IT02644000800
tel. 0039-0966-643927 - fax 0039-0966-1940162
email: info@salvatoregreco.com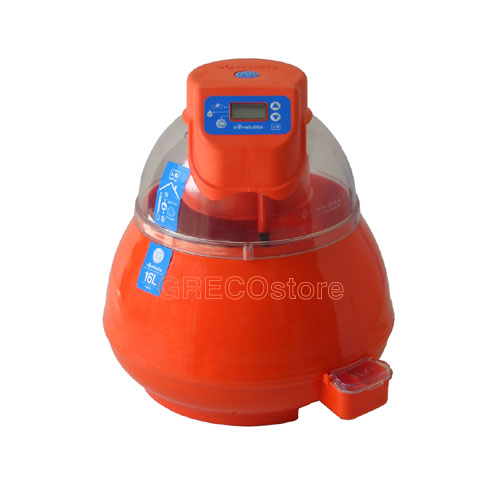 EGG INCUBATOR mod. COVATUTTO 16 L DIGITAL automatic
Manufacturer NOVITAL

This incubator is used to create the ideal conditions allowing the fertilised eggs to continue their embryonic development already started before they were laid, up to the little chicken birth. You can incubate eggs of quail, hen, grey partridge, hen-pheasant, guinea fowl, duck, turkey-hen, goose.
It is provided with thermostat.
- This new COVATUTTO 16 L digital is designed with some important innovations:
- heating: It is provided with three bulbs (25 W each.) which allows a better internal heating;
- water/humidity: the water can be put in a little external tray connected to the internal spaces, without open the incubator.
- automatic: The incubator move automatically the eggs through a new internal switch (look at the photo below).
- display: through a digital display is possible to read the temperature, change easily the temperature if occurs by clicking on 2 arrows; programming some further functions (or disable) as :
- remember the moment to add /control water;
- advise when has arrived the period of hatching.

- dimensions : Ø 31x34h
- weight:KG 1,700
- package dimensions (cm): 37x37x30h
- package weight : Kg 2,700
- capacity: 12-16 eggs (hen)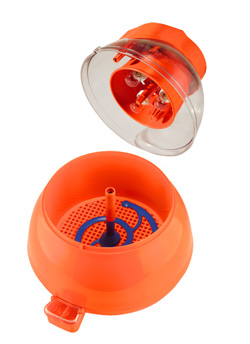 SPECIAL
OFFER
item code : INC16D
PRICE:
€ 129,00
€ 105,00
CONTACT US FOR SHIPPING CHARGES
PAYMENT METHOD
BANK TRANSFER
CREDIT CARD by PAYPAL
CREDIT CARD

If you received our quotation and the confirmation of availability
click on the button


related items