grape crusher/destemmmer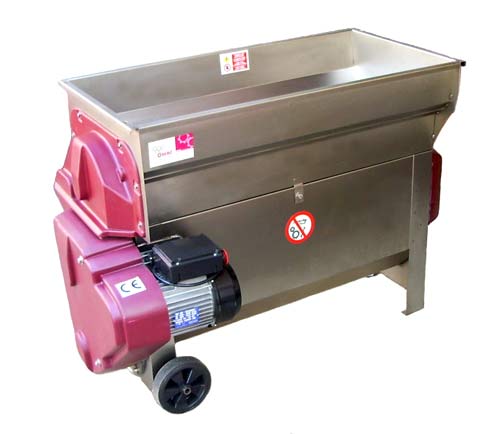 HOW TO ORDER
- If you want to buy this item, please, contact us by our information
form
or via
e-mail
.
Then, we will provide you the order information (price(s), shipping charges, payment methods and
availability of the item
). If you decide to buy the item, you have to confirm us your
order
(by filling the
order form
) and next, you may arrange the payment by a bank transfer or an online payment by credit card
*
.
*PAYMENT
>
CREDIT CARD PAYMENT

If you want to use an online payment by credit card - through PayPal - and you have already received our order information and availability of the item(s), you have to click on this PayPal button

by clicking on it you will open a payment page; there, you have to type in the space
"Unit Price"
the final price of purchase we sent you by e-mail and after, click on
"Update Totals"
for proceeding with your transaction.
technical features
GRAPE CRUSHER/DESTEMMER
MOD. ZETA 30/A inox
code DIR7
WITHOUT ROLLERS
This grape crusher/destemmer is realized in stainless steel except motor cover and exit-stems cover, made in styrene resin (ABS Acrylonitrile Butadiene Styrene).
It is provided with a
stainless steel pump
(AISI 304) for the transferring on must.
This type has the hopper that can be opened for allowing a better and easy internal cleaning.
- single-phase motor 230V/50Hz - HP 2.5
- hopper dimensions:(cm) :55x104
- overall dimensions:(cm) :128,5x67,5x89h
- weight : 95 kg.
-
hourly production: 30 QL.
(3.000 KGs./h)

grape crushers/destemmers
(general page)

click to enlarge