polyethylene barrels - 5 and 10 litres
home
> polyethylene barrels 5 and 10 litres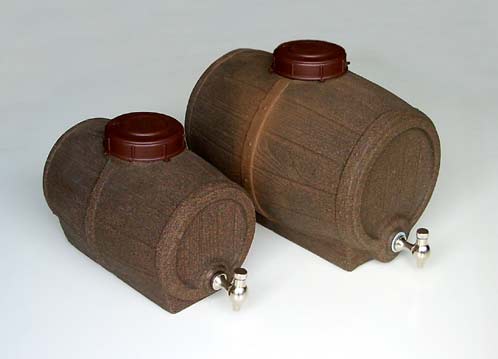 technical features and price
POLYETHYLENE BARRELS
5 & 10 litres models
manufacture TELCOM
- Polyethylene barrels suitable for wine, oil, etc. (food preservation, in general).
These light and handy little containers, have a "monolithic" structure, without any weldings. During manufacture process, the mixture is pre-coloured and it makes the barrel absolutely untransparent for preserving the content.
Cold and heat resistant from -60° C to + 80° C.
- provided with a nickel-plated brass spigot (see photo).
5 Litres

: (A)26cmx(h)21cm
weight: 0,700 KG
10 Litres

: (A)32,5cmx(h)26,5 cm
weight: 1,150 KG

oak barrels (1)
shopping on line
(1)
If you want to buy this item, please, contact us by information
form
o via
e-mail
(2)
We verify your destination and then we will send you an e-mail with information about price(s) including shipping charges.
(3)
After our reply, you have to fill in the
order form
and see to the payment by a bank transfer >
important
before of any payment, we have to confirm you the availability of item(s) by an e-mail.